Ah, the University of Reading — a hub of knowledge, excitement, and endless possibilities. As a student, you're embarking on an exciting life chapter filled with unforgettable experiences. But let's face it — with limited dormitory space and the accumulation of all your stuff, finding a solution for storing your belongings can feel as complicated as organising a mission into space. Fear not, we'll explore the wonderful world of student storage near the University of Reading, where you can keep your belongings safe while you navigate the stellar path of higher education.
Reading University 
The University of Reading — located in Berkshire, UK — offers several notably positive aspects for students studying here:
The University of Reading is highly regarded for its academic reputation. It ranks among the top 28 universities in the UK.

The University of Reading offers diverse programs across multiple fields of study, such as arts, humanities, sciences, business, and agriculture. 

The university maintains strong links with industry partners, allowing students to benefit from practical experiences, internships, and placements. 

There is a beautiful campus with modern facilities. 

It is situated in the historic town of Reading, which is known for its rich heritage, cultural attractions, and vibrant social scene. 

With its proximity to London and excellent transport links, students have easy access to a wide range of opportunities for entertainment, internships, and career prospects.
Why You Should Use Self Storage as a Student in Reading 
"Now, why on earth would I go and pay extra dosh on some self storage place? What do I get out of the deal?"
Glad you asked!
More Space in Your Dorm Rooms 
Have you ever entered your cosy dorm room only to realise it's about as spacious as a shoebox? How did you ever fit all your essentials in here? You're not alone in this problem — many students find themselves battling against the black hole that makes up their dorm room. Luckily, student storage facilities are here to shed some light on the matter and offer you a space to store your extra items without cluttering up your already suffocating living space.
Flexible Storage Options
Storage facilities near the University of Reading provide a range of storage options for the needs of students seeking a safe haven for their belongings. So whether it's just a few weeks or the entire length of your studies, flexible contracts can work around your busy schedule and ever-changing timeframes.
Security Reassurance 
Safety first! When entrusting your belongings to a storage facility, it's a big load off the mind to know they're protecting your stuff through robust security measures. All decent student self storage facilities offer features such as 24/7 surveillance, secure access controls, and individually alarmed units. You will sleep easy at night knowing that a forcefield of protection guards your belongings.
What To Look Out for in Student Storage Facilities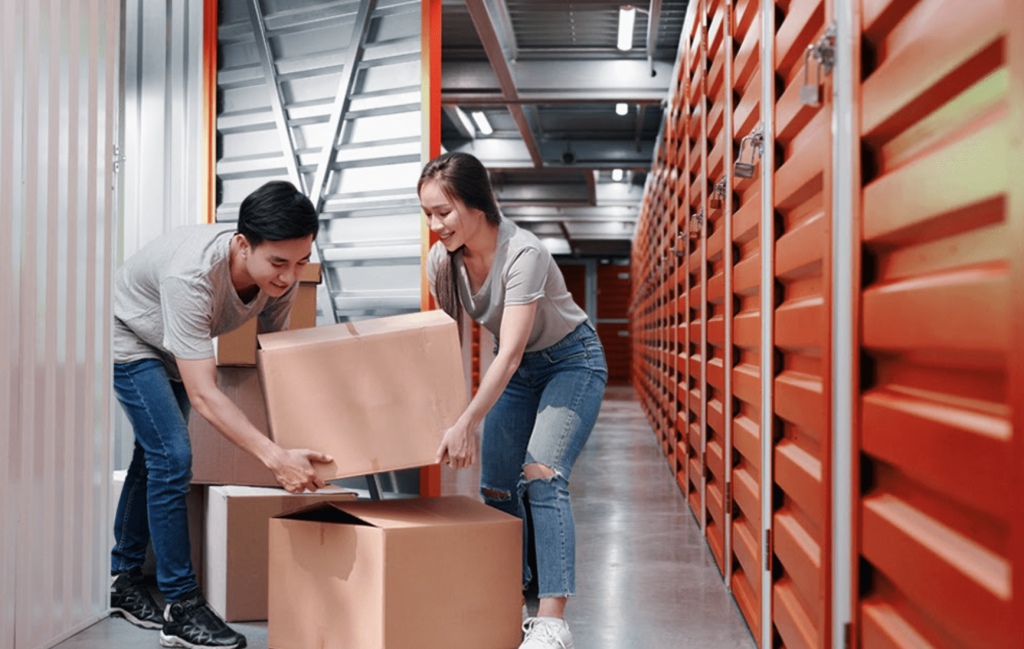 "Surely all self storage spaces are created equal?"
There are wrong choices. And believe me, if peace of mind and an easier life is what you're looking for, you do not want to use any old storage place. You'll want to do some research beforehand — and yes, we know you're already working on a massive research assignment, but don't worry; this will only take a few minutes.
Size Matters
When it comes to student storage, size does matter. You don't want to end up renting a vast warehouse for your small collection of belongings, nor do you want to squeeze everything into a tin can. Thankfully, decent storage facilities will offer a variety of unit sizes, allowing you to find the perfect fit for your needs. Whether you're storing a few boxes, furniture, or a spacecraft (okay, maybe not that last one), there's a space-appropriate solution waiting for you.
Choosing the Right Location 
Selecting a suitable storage facility is crucial, much like choosing the right major. When considering your storage needs, think about factors such as location and the pricing that goes along with it. Storage facilities in the city centre tend to be a bit more expensive than rural ones, but those might be the places closest to you and the easiest to pop over to if you need to drop off or pick up some items quickly.
Level of Accessibility 
Time is precious, and you're always on the go as a student. Look for storage facilities that offer convenient features like flexible rental terms, easy payment options, and 24/7 access. There's nothing worse than realising you desperately need an item from your storage facility, but they're closed over the weekend! Some facilities even provide loading equipment and packing materials, making storing your belongings a breeze. With these time-saving features, you'll have more hours in the day to study, explore, and enjoy the whimsical wonders of university life.
Once You've Found the Self Storage Facility for You 
You've found the most darling storage place that you can easily pop around to visit between classes if needed. So, what next?
Pack It All up Properly 
Now that you've selected the perfect storage facility, it's time to embark onwards and upwards. Pack your belongings carefully, label boxes and wrap fragile items securely. This way, when you return to retrieve your possessions, you won't be greeted by a jumbled mess reminiscent of a meteor shower aftermath.
Chat With the Staff About Your Needs 
Your storage needs will change over time. Be sure to let the staff know whether you need more or less space over time and if you need any help with packaging and storing your items correctly — they are the storage solution experts, after all.
So, dear student, fear not the challenges of limited space and the ever-growing pile of possessions. With the aid of student storage facilities, you can focus on conquering the academic galaxy while your cherished items remain protected. May your time at the University of Reading be filled with stellar achievements and memories that last a lifetime!
At Pink Hippo Self Storage, we cater specifically to students' self storage needs and offer every amenity you need to make your life easier while charging cheap prices you can afford. Our facilities in Reading are conveniently found near Reading University and feature a wide range of units ideal for local and international students.
Up to 50% OFF self storage prices at Reading
Get 50% off for up to 3 months on selected units (T's and C's apply)
To claim, get a quote and use the code PINK50
Call: 0118 957 1573
Or email: reading@pinkhipposelfstorage.co.uk