DECLUTTERING WITH SELF STORAGE
Clutter weighing you down? Whether sentimental or seasonal, we're all guilty of holding onto items we no longer need. Pink Hippo's modern and secure storage facilities in Reading and Leatherhead are the perfect household or office storage solution, helping you clear out unnecessary clutter and safely store all your excess goods with ease!
THE BENEFITS OF DECLUTTERING YOUR SPACE

A quick decluttering can have dozens of benefits, not only on your physical space but your mind as well. Simply sorting through your cupboard or garage will free up a huge amount of space and create a more productive, spacious and healthier environment in your home or office. Incorporating this into your routine can have a positive impact in the following ways:
Reduces stress and anxiety


More stuff means more stress. Stacks of paperwork in the office or junk lying around the house can have an incredibly negative impact on your mental health, making you feel anxious and stressed. Decluttering your space will clear your mind and make your life feel more organised.

Easier to clean and organise
With hoards of items piling up in every corner of your home or office, it can be impossible to keep any room clean and organised. A swift decluttering session will clear the space and allow you to dust, sweep and mop without any clutter getting in the way.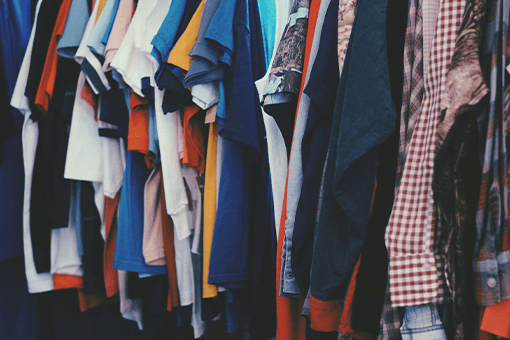 Boosts productivity and creativity
Whether you work from home or manage an office space, having a clean and clutter-free space is key to being productive and working efficiently. A neat and organised space will save time, reduce errors and keep energy levels high. Decluttering your office could also free up tons of extra space, allowing you to downsize and cut your monthly expenses.
HOW SELF STORAGE CAN HELP YOU DECLUTTER
Decluttering can be a daunting task, requiring you to sort through stacks of clothing, sports equipment, seasonal decorations and more. To save time and your sanity, take these simple tips into consideration.
Use the 1-year rule
It can be hard to let go of certain things, but if too many of these mementoes pile up, your home can become cluttered and chaotic. The 1-year rule is an easy way to let go of items you no longer need. Ask yourself if you've used it in the last year and if the answer is "No", then it might be best to donate the item or give it to someone who will have a use for it.
Start with the biggest room
If you have a big house, decluttering can get a bit out of hand and make your home look messier than when you started. To create some organisation, start with the biggest room that receives the most foot traffic and work your way through your house, tackling one room at a time.
Be smart with your storage
Storing your items is a very important part of the decluttering process. You need to decide where everything will be placed, and if there is a shortage of space, you'll need to think of a plan B. Whether buying multi-purpose furniture or renting a self storage unit, it's important to store your excess goods in a safe place that is out of the way.
WHY STORE WITH PINK HIPPO
Pink Hippo prides itself on being a secure and affordable storage solution in Reading and Leatherhead. While we are dedicated to making decluttering easy and stress free, we also go the extra mile to help our customers with whatever they need, whether that's packaging supplies or advice on which size unit will best suit their needs. 
People choose Pink Hippo for our: 
Free 24 hour access, 7 days a week

Ample onsite parking for easy unloading

Free trolleys

Flexible lease agreements with the option to upsize or downsize units

High-quality customer service

Alarmed facility with 24-hour CCTV monitoring

Convenient and quality packaging store